In order to really get out and explore all that the area around Staniel Cay has to offer, it is imperative that you have access to a boat.  Going into the vacation I understood this. I also knew that it was going to prove a little tricky due to the minor detail that neither myself nor Danny have ever actually driven a boat in our lives.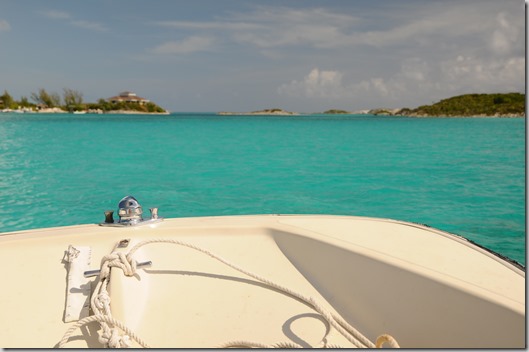 No worries.  We were introduced to this great guy named Cliff who was happy to ferry us around for a couple of days.  On Thursday at 9:30 on the dot Cliff retrieved us  from the public dock which was practically right across the street from where we were staying.
Our first stop of the day was at Bitter Guana Cay.  This spot is home to an endangered species of rock iguanas. These guys were HUGE and not even a little bit shy.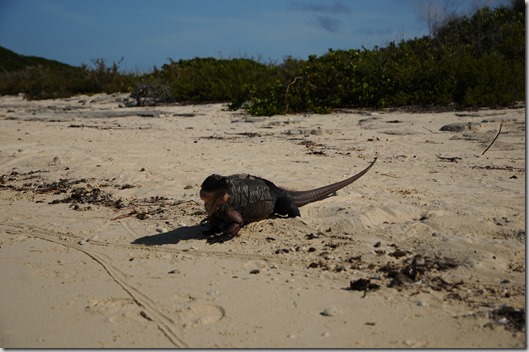 We didn't stick around long because the next stop on our tour was Big Major Cay, home of the infamous swimming pigs!  As soon as our boat got within range the pigs came running out from wherever they hang out on the island and started swimming to the boat. It was hilarious.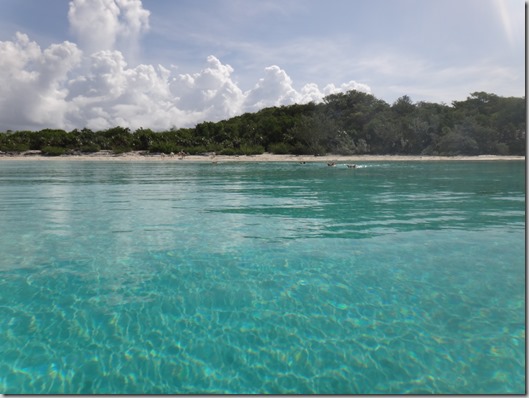 Once they made it to the boat we started throwing out scraps of food that the yacht club gives out to people who are going to the pig island.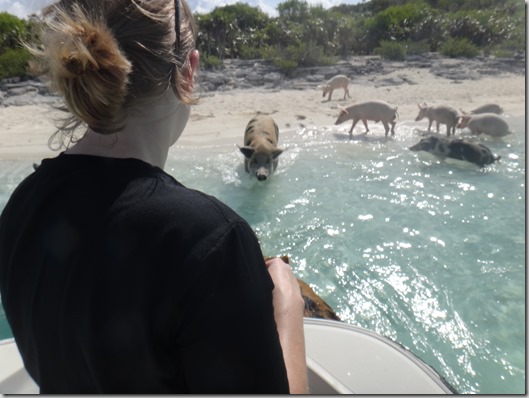 These pigs, they are not shy at all.  They kind of reminded me of my dogs when puppy cones are involved.  They grunted and squealed and put their little hooves on the side of the boat for leverage. 
The big spotted one in the above picture (that I appear to be having a stare down with) was a huge asshole.  She demanded food and when we tried throwing it to the other pigs (and piglets) she would get huffy, make this awful shrill noise and charge the others so she could have the food all to herself.  Basically, she was a lot like Gracie.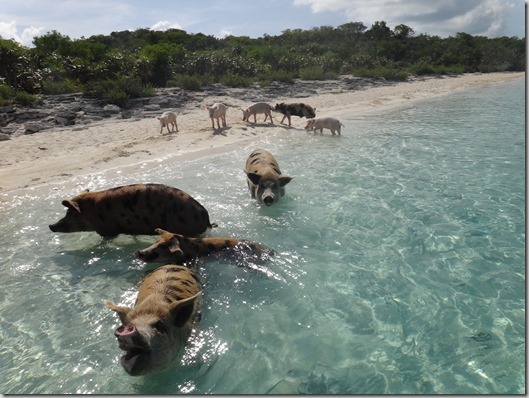 I had planned on hopping off the boat to pet the piglets and take more pictures.  In a final act of defiance the spotted pig looked right into my eyes and… pooped in the water right in front of our boat.  I assume that this was her way of getting back at me for admonishing her for not sharing (and throwing food to the other pigs).
From Big Major we headed over to the Compass Cay Marina.  This place is home of the friendly sharks.  In the weeks leading up to our trip, I became really pumped about swimming with the sharks and was trying to get Danny onboard with how awesome it would be.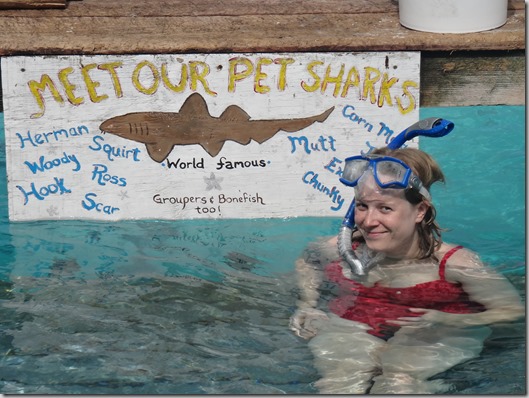 I threw on my snorkel mask and hopped right in.  Danny was much less enthused.  I kept proclaiming "this is the coolest thing EVER" (because it was) but I could not convince him to hop in the water with me.  It was only after a significant amount of coaxing that I managed to get him to get close enough to snap a picture.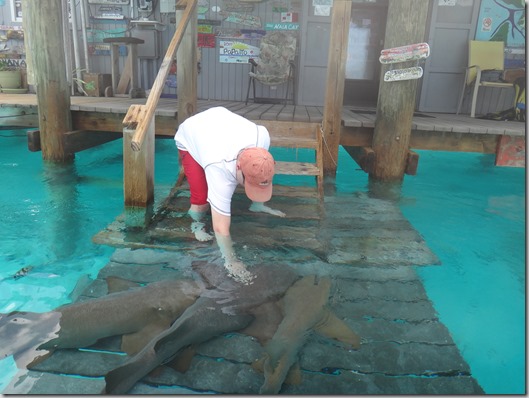 The sharks were like dogs (except much more gentle than my two mutts).  They laid on the dock waiting to be rubbed and there were so many of them.  Once they got word that I was passing out head scratches more would find their way onto the dock.  Hanging out with these guys was the coolest thing I have ever done.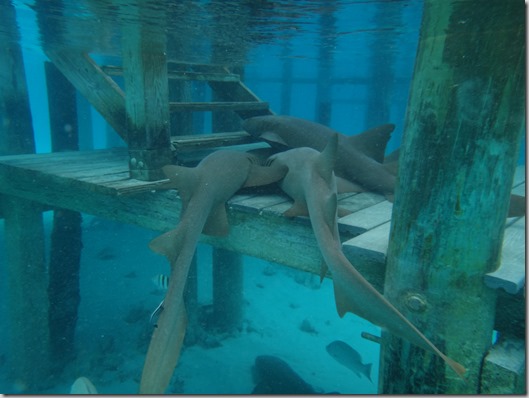 Compass Cay also has a really great little beach area.  It had a couple of places for shade and, like everywhere else that we visited, it was totally deserted.  Not a bad place to spend a couple of hours.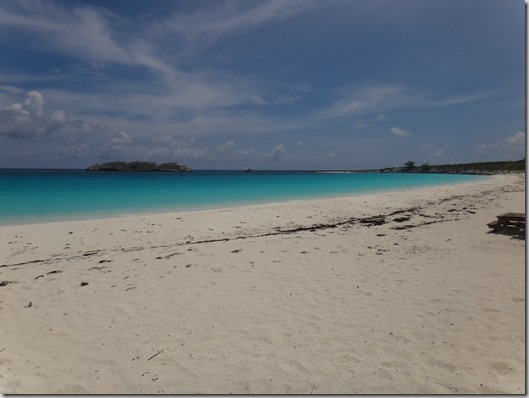 From Compass Cay we zoomed up to the Land and Sea Park, which I was excited to snorkel.  Unfortunately, a nasty storm blew through the area just as we were arriving and I was a little nervous about hopping in the water.  (Spoiler Alert: We made it back later in the week)
Since the Land and Sea Park was a bust, Cliff took us a few other places so that I could snorkel.  He also parked the boat at an amazing sandbar that seemed to pop up out of nowhere and go on forever.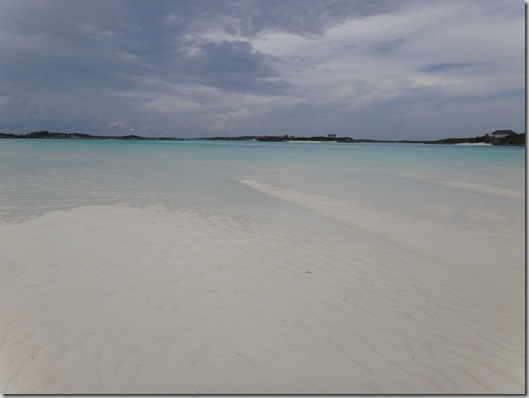 Our last stop of the day was Thunderball Grotto.  When I started researching Staniel Cay as a potential destination, the grotto kept popping up as a "must do."  Everything that I read said that it was incredible but to make sure that you timed your trip so that you could go at low tide.  I was excited about the chance to see it but also really nervous.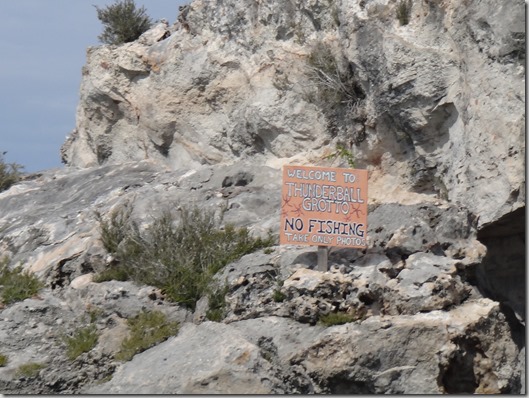 Luckily, this trip was timed perfectly and there were several other people already there snorkeling.  That made it much less scary for me (especially because Danny had already made it clear that he was not interested in going in).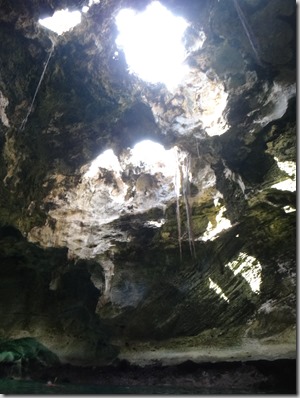 Snorkeling in the cave was straight up insane.  The fish were going crazy because a few people had brought in food for them.  Everywhere I turned blew my mind.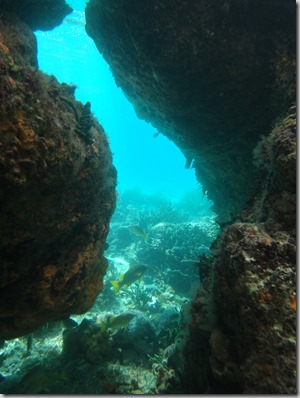 After swimming in and out of the cave a few times trying to convince Danny (to no avail) to put his gear on, I returned to the boat and we headed back to the dock to pick up our golf cart.  The details after this are a little fuzzy, so, I assume that we headed to the bar for margaritas.
Swimming pigs, friendly sharks, deserted beaches and snorkeling in a cave – from start to finish, this day was one of the best ever.