Years ago, I ran across an article somewhere about pigs that live on an island in the Bahamas and swim.  Ever since, I have had "see the swimming pigs" on my bucket list.
If I am being honest, at first, I was not 100% forthcoming with Danny regarding the details of this trip.  Staniel Cay doesn't have a full size airstrip (or an airport), so, the only way that you can get down there is to take a prop plane.  Danny hates small planes and was less than enthused when I finally came clean to him about how we would have to get from the US to the island.
The conversation went something like this:
Me: So, FYI, we have to take a commuter plane to the swimming pig place.

Danny: You know how I feel about those planes. You are serious?

Me: Swimming pigs!

Danny: What is the safety rating of this company that flies down there?

Me: I don't know – but, swimming pigs!

Danny: No.

Me: Fine, if you are going to kill my dream of seeing the swimming pigs, you can plan our vacation for yourself this year.
And that, friends, is how we found ourselves aboard this very small plane at approximately 7AM last Wednesday morning.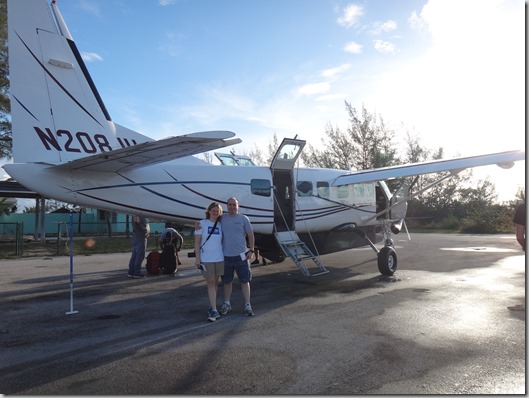 The first leg of our flight was about an hour and took us into Chub Cay, where we cleared customs.   The descent onto the landing strip here was an experience.  Never in my life have I felt anything like the pressure build up and our ears were popping so much that it felt like our head was going to explode. 
Customs was a trip.  We arrived around 8:15AM and were told that the official hadn't arrived to work yet. The house in this picture is the customs office.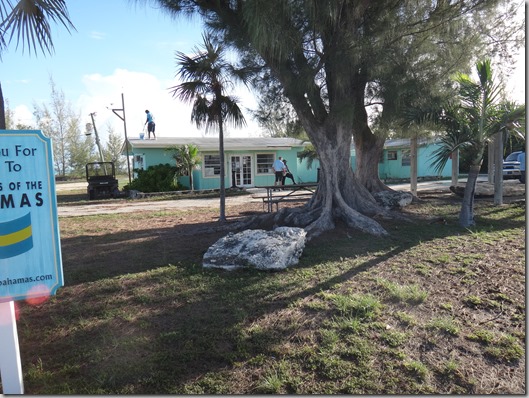 The flight from Chub to Staniel Cay was about another hour.  I amused myself by taking roughly a million pictures out of the window.  The view going down the island chain was ridiculous.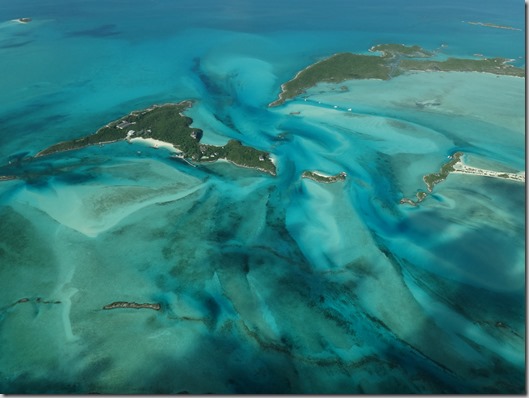 As I mentioned, Staniel Cay does not have an airport.  The landing strip is surrounded by the water and whoever is picking you up arrives via golf cart. The colorful little hut in the picture below is where you wait for your ride.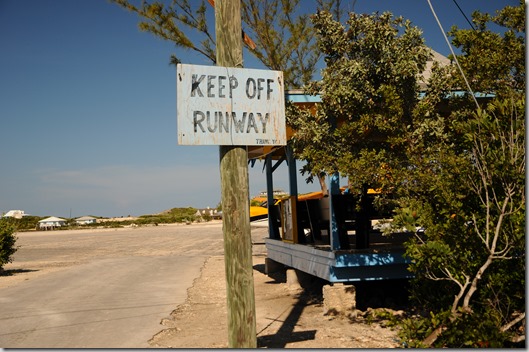 Most people that come to Staniel Cay stay at the yacht club.  For years I read  reviews and thought about pulling the trigger on a vacation there.  We wound up spending A LOT of time at the yacht club bar hanging out, but, stayed closer to the airport at a new place called Embrace Resort (that is still under construction).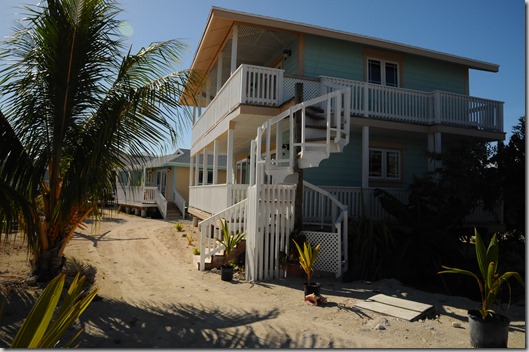 Our house came equipped with a kitchen (which I had stocked before we arrived with a few items), reliable wifi (which is important in my line of work) and cable tv (totally not necessary but a nice luxury to have).  We were also provided a golf cart to roam around the island and explore.
We spent most of our first day tooling around on the cart and getting the lay of the land.  Staniel Cay is small.  You can drive from one end of the island to the other in less than an hour.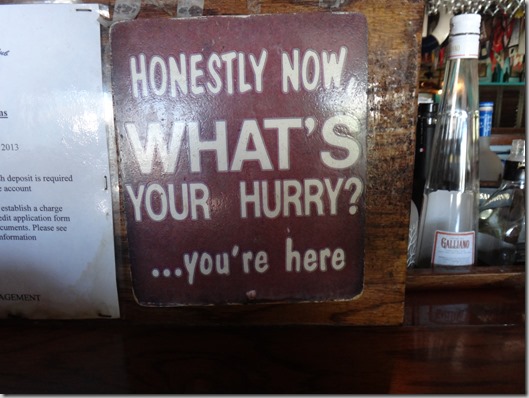 It didn't take long before we found our way to the bar at the yacht club.  With margaritas in hand, vacation had officially arrived!
Up next – the swimming pigs!