After Gracie was diagnosed with the ACL tear on her right leg we were told that about 50% of dogs who tear one ligament will have the other go within a year.  Obviously, we were hoping to beat the odds.  About a month ago at her wellness check-up, our vet told us that he felt like her left ACL was about to blow out at anytime.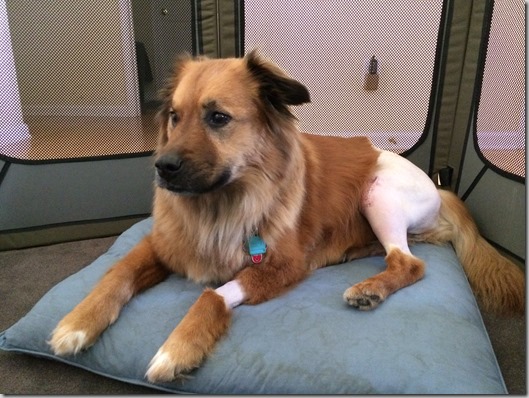 It turns out that he knows his stuff pretty well. Last week while out in the backyard chasing Sherlock it went in a fairly dramatic fashion. I heard a yelp followed by immediate lameness and knew right away.  A visit to the vet the next day confirmed things and we scheduled surgery for this past Thursday.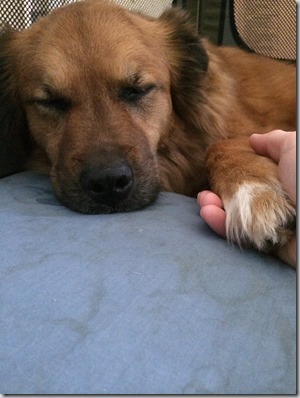 The only way that I could get Gracie to settle down yesterday was to lay in her exercise pen, hold her paw and let her lick me until she finally drifted off to sleep.
So far, things have been much rougher this go round.  Before the surgery she was barely using the leg at all. Since we have been home she is still very hesitant on it. 
Before bringing her home we tried to make a few changes to our house to help make her more comfortable this time around.  This involved setting up exercise pens in both our living room and bedroom.  We also removed some furniture from our office to make a "safe room" for her to lounge around in.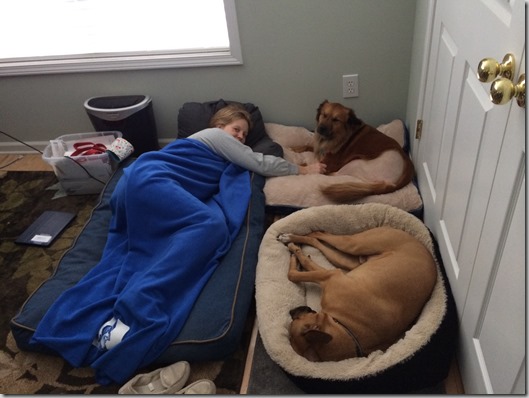 It turns out that the ginormo dog bed is an adequate size for a human to nap on.
This afternoon we gave Gracie a break from the exercise pens (which she has already come to loathe) and let her into the safe room. Danny snapped this picture right before I fell asleep.  I guess Danny must have decided a nap sounded like a good plan because when I woke up I discovered this happening…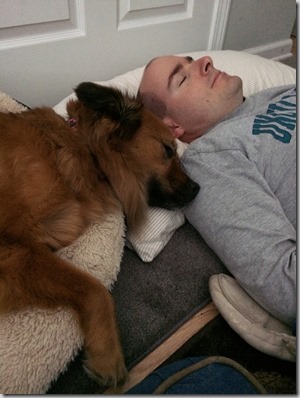 …which I thought was the most adorable thing ever.  Unfortunately, Gracie is only into cuddling when she feels miserable.   I almost think I would rather have her do her usual bark/yell thing at us if it meant that felt more like herself. 
Let's do this Gracie – 3 days down only 53 left to go.